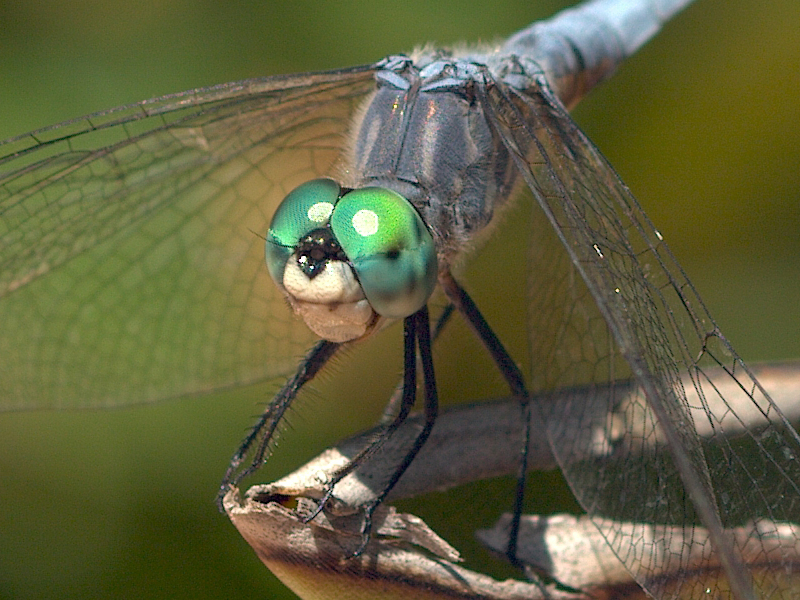 SharpRaw for Digital Photography
SharpRaw is the only software product to use Neural Network technology to perform interpolation of raw data files to produce the highest possible resolution with the lowest noise. SharpRaw can process Minolta MRW, Canon CRW, Fuji RAF, Nikon NEF and Olympus ORF raw files. Pro Version now supports the Adobe Digital Negative.
Not only for RAW files, SharpRaw can process JPG, TIFF and BMP files for levels, color correction chromatic aberration and distortion correction.
SharpRaw outputs corrected images as JPG, TIFF, BMP or PhotoShop (48bit) PSD files.
Logical Designs is actively developing new and better features for SharpRaw. Once you purchase SharpRaw, ALL future UPDATES are FREE. Get up to three machines with one license fee.
Dragon Fly image is 1:1 crop from Canon 20D using a Hasselblad 120 S-Planar lens and adaptor processed with SharpRaw.
Why Use RAW Format
The RAW format is your "digital negative". It contains all the information that the camera has about a picture. Information is lost in the conversion to JPG in the camera. If you get the settings wrong in the camera and take a picture, it's too late. You're stuck with the picture and can do only a limited amount of correcting in your favorite image editor. So when you need the best from you camera, shoot RAW.
SharpRaw lets you adjust every feature of the image starting from the digital negative. Every characteristic of the picture can be modified including the color balance, contrast, sharpness, distortion, and perspective.
Make you inexpensive camera perform like a Pro Camera. SharpRaw is great at generating consistent results between cameras. Since the interpolation and color correction is performed in SharpRaw, differences between cameras are minimized.
Why waste pixels? SharpRaw and SharpRaw Pro are the only products that use every pixel on the sensor in generating the output image. That means that your Canon 20D will be an 8.27mp camera, not an 8.18mp as advertised (output image is 3522x2348 not 3504x2336).
Get Perfect Color Correction with Neural Networks
The filters on your digital camera's CCD do not exactly match the color response of you eye. To correctly map what the camera "sees" to what you see requires a color correction operation. SharpRaw and SharpRaw Pro perform accurate color correction by training neural nets on images of calibrated color targets to get the most accurate color. Furthermore, if you purchase the SharpRaw Color target you can train you own color correction nets for optimal performance with your camera, and lighting conditions. SharpRaw Pro now uses the XYZ nets so that one net can be used for multiple color spaces. SharpRaw Pro also has built-in White Balance Compensation to fine tune your camera's camera recorded white balance.
SharpRaw Pro $19.95
SharpRaw Color Target $39.00
Features
Raw file interpolation (6 methods).
Auto white balancing (3 methods) including camera recorded white balance.
Lens Distortion Correction.
Color Balance Correction.
Trainable Neural Network Color Correction using Macbeth ColorChecker.
Trainable Neural Network Color Correction using SharpRaw Color Target.
Trainable Neural Network Color Correction using IT8 Color Target (Pro Version).
Image Resize with Perspective Control.
Image Rotation with no loss of detail.
Levels and Equalizer Color Correction.
Batch Processing of Images.
Blurring Filter.
Median Filter with color only mode (Pro Version).
Unsharp Mask Filter.
Zipper Filter for alternating pixel artifacts.
Trainable Neural Network Sharpening Filter (Pro Version).
Multiple Image Averaging for higher resolution and lower noise (Pro Version).
Image Combining for increased Depth of Field (Pro Version).
Image Combining for increased Dynamic Range (better shadow detail) (Pro Version).
Image Combining of Dark Frame Subtraction (Pro Version).
Image Flat Field Correction (Pro Version).
Trainable Image Chromatic Aberration Correction (Pro Version).
Trainable Noise Minimization (Pro Version).
Trainable Deconvolution Sharpening (In Development) (Pro Version).
Printer Profiling using the SharpRaw Calibrated Color Target (In Development) (Pro Version)
Panorama Stitching (In Development).
Supported Cameras
Thanks in part to Dave Coffin's decoding software (rev 8.98) the current list is growing...
Adobe Digital Negative (DNG)
AgfaPhoto DC-833m
Apple QuickTake 100
Apple QuickTake 150
Apple QuickTake 200
AVT F-080C
AVT F-145C
AVT F-201C
AVT F-510C
AVT F-810C
Canon PowerShot 600
Canon PowerShot A5
Canon PowerShot A5 Zoom
Canon PowerShot A50
Canon PowerShot A460 (CHDK hack)
Canon PowerShot A470 (CHDK hack)
Canon PowerShot A530 (CHDK hack)
Canon PowerShot A570 (CHDK hack)
Canon PowerShot A590 (CHDK hack)
Canon PowerShot A610 (CHDK hack)
Canon PowerShot A620 (CHDK hack)
Canon PowerShot A630 (CHDK hack)
Canon PowerShot A640 (CHDK hack)
Canon PowerShot A650 (CHDK hack)
Canon PowerShot A710 IS (CHDK hack)
Canon PowerShot A720 IS (CHDK hack)
Canon PowerShot Pro70
Canon PowerShot Pro90 IS
Canon PowerShot Pro1
Canon PowerShot G1
Canon PowerShot G2
Canon PowerShot G3
Canon PowerShot G5
Canon PowerShot G6
Canon PowerShot G7 (CHDK hack)
Canon PowerShot G9
Canon PowerShot G10
Canon PowerShot G11
Canon PowerShot S2 IS (CHDK hack)
Canon PowerShot S3 IS (CHDK hack)
Canon PowerShot S5 IS (CHDK hack)
Canon PowerShot SD300 (CHDK hack)
Canon PowerShot S30
Canon PowerShot S40
Canon PowerShot S45
Canon PowerShot S50
Canon PowerShot S60
Canon PowerShot S70
Canon PowerShot SX1 IS
Canon PowerShot SX110 IS (CHDK hack)
Canon EOS D30
Canon EOS D60
Canon EOS 5D
Canon EOS 5D Mark II
Canon EOS 7D
Canon EOS 10D
Canon EOS 20D
Canon EOS 30D
Canon EOS 40D
Canon EOS 50D
Canon EOS 300D / Digital Rebel / Kiss Digital
Canon EOS 350D / Digital Rebel XT / Kiss Digital N
Canon EOS 400D / Digital Rebel XTi / Kiss Digital X
Canon EOS 450D / Digital Rebel XSi / Kiss Digital X2
Canon EOS 500D / Digital Rebel T1i / Kiss Digital X3
Canon EOS 1000D / Digital Rebel XS / Kiss Digital F
Canon EOS D2000C
Canon EOS-1D
Canon EOS-1DS
Canon EOS-1D Mark II
Canon EOS-1D Mark III
Canon EOS-1D Mark II N
Canon EOS-1Ds Mark II
Canon EOS-1Ds Mark III
Casio QV-2000UX
Casio QV-3000EX
Casio QV-3500EX
Casio QV-4000
Casio QV-5700
Casio QV-R41
Casio QV-R51
Casio QV-R61
Casio EX-S20
Casio EX-S100
Casio EX-Z4
Casio EX-Z50
Casio EX-Z55
Casio EX-Z60
Casio EX-Z75
Casio EX-Z850
Casio Exlim Pro 505
Casio Exlim Pro 600
Casio Exlim Pro 700
Contax N Digital
Creative PC-CAM 600
Epson R-D1
Foculus 531C
Fuji FinePix E550
Fuji FinePix E900
Fuji FinePix F700
Fuji FinePix F710
Fuji FinePix F800
Fuji FinePix F810
Fuji FinePix S2Pro
Fuji FinePix S3Pro
Fuji FinePix S5Pro
Fuji FinePix S20Pro
Fuji FinePix S100FS
Fuji FinePix S5000
Fuji FinePix S5100/S5500
Fuji FinePix S5200/S5600
Fuji FinePix S6000fd
Fuji FinePix S7000
Fuji FinePix S9000/S9500
Fuji FinePix S9100/S9600
Fuji IS-1
Hasselblad CFV
Hasselblad H3D
Hasselblad V96C
Imacon Ixpress 16-megapixel
Imacon Ixpress 22-megapixel
Imacon Ixpress 39-megapixel
ISG 2020x1520
Kodak DC20
Kodak DC25
Kodak DC40
Kodak DC50
Kodak DC120
Kodak DCS200
Kodak DCS315C
Kodak DCS330C
Kodak DCS420
Kodak DCS460
Kodak DCS460A
Kodak DCS520C
Kodak DCS560C
Kodak DCS620C
Kodak DCS620X
Kodak DCS660C
Kodak DCS660M
Kodak DCS720X
Kodak DCS760C
Kodak DCS760M
Kodak EOSDCS1
Kodak EOSDCS3B
Kodak NC2000F
Kodak ProBack
Kodak PB645C
Kodak PB645H
Kodak PB645M
Kodak DCS Pro 14n
Kodak DCS Pro 14nx
Kodak DCS Pro SLR/c
Kodak DCS Pro SLR/n
Kodak C330
Kodak C603
Kodak P850
Kodak P880
Kodak Z980
Kodak Z1015
Kodak KAI-0340
Konica KD-400Z
Konica KD-510Z
Leaf AFi 7
Leaf Aptus 17
Leaf Aptus 22
Leaf Aptus 54S
Leaf Aptus 65
Leaf Aptus 75
Leaf Aptus 75S
Leaf Cantare
Leaf CatchLight
Leaf CMost
Leaf DCB2
Leaf Valeo 6
Leaf Valeo 11
Leaf Valeo 17
Leaf Valeo 22
Leaf Volare
Leica Digilux 2
Leica Digilux 3
Leica D-LUX2
Leica D-LUX3
Leica D-LUX4
Leica V-LUX1
Logitech Fotoman Pixtura
Mamiya ZD
Micron 2010
Minolta RD175
Minolta DiMAGE 5
Minolta DiMAGE 7
Minolta DiMAGE 7i
Minolta DiMAGE 7Hi
Minolta DiMAGE A1
Minolta DiMAGE A2
Minolta DiMAGE A200
Minolta DiMAGE G400
Minolta DiMAGE G500
Minolta DiMAGE G530
Minolta DiMAGE G600
Minolta DiMAGE Z2
Minolta Alpha/Dynax/Maxxum 5D
Minolta Alpha/Dynax/Maxxum 7D
Motorola PIXL
Nikon D1
Nikon D1H
Nikon D1X
Nikon D2H
Nikon D2Hs
Nikon D2X
Nikon D2Xs
Nikon D3
Nikon D3X
Nikon D40
Nikon D40X
Nikon D50
Nikon D60
Nikon D70
Nikon D70s
Nikon D80
Nikon D90
Nikon D100
Nikon D200
Nikon D300
Nikon D300s
Nikon D700
Nikon D3000
Nikon D5000
Nikon E700 ("DIAG RAW" hack)
Nikon E800 ("DIAG RAW" hack)
Nikon E880 ("DIAG RAW" hack)
Nikon E900 ("DIAG RAW" hack)
Nikon E950 ("DIAG RAW" hack)
Nikon E990 ("DIAG RAW" hack)
Nikon E995 ("DIAG RAW" hack)
Nikon E2100 ("DIAG RAW" hack)
Nikon E2500 ("DIAG RAW" hack)
Nikon E3200 ("DIAG RAW" hack)
Nikon E3700 ("DIAG RAW" hack)
Nikon E4300 ("DIAG RAW" hack)
Nikon E4500 ("DIAG RAW" hack)
Nikon E5000
Nikon E5400
Nikon E5700
Nikon E8400
Nikon E8700
Nikon E8800
Nikon Coolpix P6000
Nikon Coolpix S6 ("DIAG RAW" hack)
Nokia N95
Olympus C3030Z
Olympus C5050Z
Olympus C5060WZ
Olympus C7070WZ
Olympus C70Z,C7000Z
Olympus C740UZ
Olympus C770UZ
Olympus C8080WZ
Olympus X200,D560Z,C350Z
Olympus E-1
Olympus E-3
Olympus E-10
Olympus E-20
Olympus E-30
Olympus E-300
Olympus E-330
Olympus E-400
Olympus E-410
Olympus E-420
Olympus E-500
Olympus E-510
Olympus E-520
Olympus E-620
Olympus E-P1
Olympus SP310
Olympus SP320
Olympus SP350
Olympus SP500UZ
Olympus SP510UZ
Olympus SP550UZ
Olympus SP560UZ
Olympus SP570UZ
Panasonic DMC-FZ8
Panasonic DMC-FZ18
Panasonic DMC-FZ28
Panasonic DMC-FZ30
Panasonic DMC-FZ35/FZ38
Panasonic DMC-FZ50
Panasonic DMC-FX150
Panasonic DMC-G1
Panasonic DMC-GH1
Panasonic DMC-L1
Panasonic DMC-L10
Panasonic DMC-LC1
Panasonic DMC-LX1
Panasonic DMC-LX2
Panasonic DMC-LX3
Pentax *ist D
Pentax *ist DL
Pentax *ist DL2
Pentax *ist DS
Pentax *ist DS2
Pentax K10D
Pentax K20D
Pentax K100D
Pentax K100D Super
Pentax K200D
Pentax K2000/K-m
Pentax K-7
Pentax Optio S
Pentax Optio S4
Pentax Optio 33WR
Pentax Optio 750Z
Phase One LightPhase
Phase One H 10
Phase One H 20
Phase One H 25
Phase One P 20
Phase One P 25
Phase One P 30
Phase One P 45
Phase One P 45+
Pixelink A782
Polaroid x530
Rollei d530flex
RoverShot 3320af
Samsung GX-1S
Samsung GX-10
Samsung S85 (hacked)
Samsung S850 (hacked)
Sarnoff 4096x5440
Sigma SD9
Sigma SD10
Sigma SD14
Sinar 3072x2048
Sinar 4080x4080
Sinar 4080x5440
Sinar STI format
SMaL Ultra-Pocket 3
SMaL Ultra-Pocket 4
SMaL Ultra-Pocket 5
Sony DSC-F828
Sony DSC-R1
Sony DSC-V3
Sony DSLR-A100
Sony DSLR-A200
Sony DSLR-A300
Sony DSLR-A330
Sony DSLR-A350
Sony DSLR-A380
Sony DSLR-A700
Sony DSLR-A850
Sony DSLR-A900
Sony XCD-SX910CR
STV680 VGA
---
Don't see yours... Let us know
Supported Computers
Windows, all versions.
System Requirements
Operating System: Windows
RAM: 512mb recommended.
Program Disk Space: 5mb
Display: Should support True Color mode for best viewing.